LN – Break the prejudice. "When they look at me I ask them if something happens and they don't know where to go"
I am deaf from birth. My parents got married, decided to have two children and to my surprise, my mother got pregnant for the third time. They never imagined that they were going to have a deaf daughter until they had me. They were distressed with my grandparents thinking that I would not be able to speak or shout if something happened to me for help, or get a job, or be able to become independent, nor would I have a life like the others.
My family was very important for my learning. When I was a girl, I always played with my brothers and the neighbors of the block to the ball, to the spot, to the hopscotch, to my dog ​​or we made famous imitations. My brothers helped me in my growth and corrected me if I said something wrong. They took care of me because I was the youngest and if someone bothered me, they went out to defend me. One day my sister made me a list of verbs, adjectives and new words that my mother devised, they stuck it with my brother on the kitchen wall for me to learn. Because for the deaf all words are new. For example, they put "What did he say?" for me to use when I didn't understand what people were talking about or telling me something. Because until then in those situations I reacted by gesturing to my mother, pointing at the person and moving my lips without saying anything concrete. I just wanted to be able to hear and understand conversations, it's the only thing that always happened to me, it happens to me and it will happen to me.
At that time I was embarrassed because the boys of my age were staring at my hearing aid or because I spoke "differently". But big, no. If they look at me like that, I think they lack education and I look at them, sometimes I ask them if something happens and they don't know where to go. It is only for them to understand that one should not look like this or at least hide it. It's fun when they ask me where I am from the accent I have.
We were not a rich or poor family. We lived in Villa de Mayo. My mom was a housewife and lived for her children and home. In the last years of his life, he received a gym teacher and had his gym and his students at home. My dad was a coffee maker, he walked the streets with coffee and bills, and he was the main economic support of the house.
My mother was recommended at the Gutierrez hospital to take me to a special school for the deaf. They gave him a list of schools and the first name that appeared was that of "Las Lomas Oral". He approached and spoke with the director Inés Funes. My mother was distressed to learn that it was a very good and expensive school, thinking that she would not be able to afford it.
The director told him: "The important thing is that Carolina comes here to learn to talk, about the money we talk later." This little gesture had a huge impact on my life. In that school I could learn to speak and listen thanks to the headphones. I was a year and a half and I learned things that seemed impossible. I was happy. My family then decided to make a great effort to be able to pay it with the help of my grandparents and we were able to get a 50% scholarship.
Wearing headphones helped a lot. At school we had a speech therapist who studied us and followed our steps, spoke to us on our backs or covering our mouths with paper so that we could identify the sounds. And the teachers who made us repeat words for syllables until they worked out. I liked everything about school, it was my second home, my second family. I grew up there. I had a beautiful childhood. Best of all, we could chat with our teachers and classmates from our daily experiences, we were like their children. The best, of course, were the breaks. We went for a walk, to explore and we performed for the theater at the end of the year.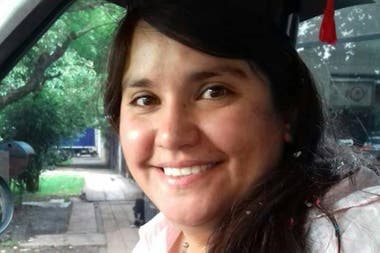 I grew up and eventually became a champion of the school and received the best average award. At age 12 I was ready to join a listener's school. I was happy and sad at the same time. From a safe world, protected and prepared for deaf children, I went out to face the real world, being alone in my way, without the net that protected me and I had to learn to defend myself.
When I moved to a common school it was difficult because in our time I saw novels like "Amigovios" and "Chiquititas", and I thought that the world was something like that but then I found reality and I had to live rejections, although I was also accepted by fellow listeners my age.
Just then my mother died and that broke my soul. I was alone. I received rejections from some colleagues who didn't always want me in practical group work. I remember that some complained that the teachers gave me special attention and they always clarified that it was not so. They just asked me if I understood or notified me of any exam date or practical work.
With my family we always communicated orally and I learned the first sign at age 17 when I saw a group of deaf people talking with their hands. For me it was the discovery of a new world where I found my identity as a deaf person because naturally it is easier for us to communicate through gestures. I felt identified with them and I could start to socialize and have friends like me. I know the basics of signs and I still have to learn because I am used to speaking orally about work, faculty and family but deaf people say that I manage well with signs.
On a birthday, when I was 17 and was about to finish high school, they asked me what I wanted to do and with a smile, I replied that I wanted to be a lawyer. The reaction was not what I expected: everyone told me it was impossible, that I would not have a social life and that there were no deaf lawyers. I kept quiet for a few seconds and replied: "If you believe, you can." I always kept in mind my mother's attitude that was my strength.
I studied at John F. Kennedy University of which I have a very good impression for the support of teachers and classmates. They always helped me. Sometimes I missed things that teachers said but grabbed books, codes, laws and studied from there as well as the notes of my classmates who wrote down everything in class. With much effort, after nine years, I received a lawyer.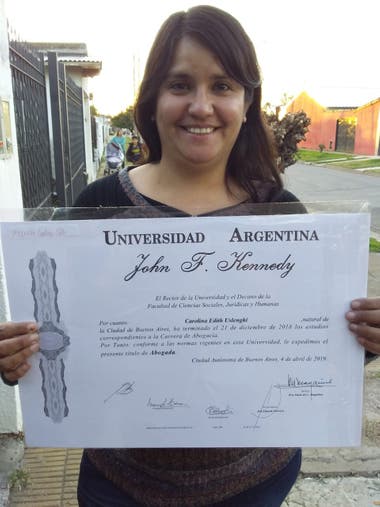 Now I am 35 years old, I am married, I work as a municipal administrator for 14 years, I am an independent lawyer and I work with my partner. We have hearing and deaf clients. And things are done on the fly. We are starting. I would like to work on something stable and fixed as a lawyer. I don't lose hope that they will call me one day to hire me.
There are still many social and institutional obstacles for deaf people. There are people who, when approaching a deaf person in the street to ask something and realize that they are deaf, they get scared and leave instead of trying to talk and ask what they want to know. We lack many rights. We do not have accessibility to the media such as subtitles on television, missing Sign Language interpreters in courses, trainings, conferences, universities, etc. When we go to the hospital, we often depend on another person to call us by last name or number instead of having screens accessible to everyone.
My dream is to be able to work and live from my profession. Achieve with my example that there are more deaf lawyers because deaf people need professionals who put themselves in their shoes and be able to communicate in the same language with total comfort and confidence.
Society has a lot to do to be able to change its position towards the person with disabilities because we are all different and unique at the same time. No one is better than another. I am deaf and professional, as well as another person who has no disability, does not want or make an effort with his life to get ahead. Getting ahead depends on one and society already stigmatizes us for having a disability when it should not be. Luckily we are more and more who show that everything is possible when you want.
. (tagsToTranslate) Break the prejudice. "When they look at me I ask them if something happens and they don't know where to go" – First person (t) Invisible networks (t) Invisible networks Jennifer – LA NACION



Publicado en el diario La Nación