Everything that happens has a purpose. This is what Susana thinks, so she has no doubt that among the
more than 28,000 volunteers who signed up for the "Greater Care" program

of the Government of the city of Buenos Aires, aimed at providing assistance to the elderly during preventive and compulsory isolation due to the COVID-19 pandemic,
Natalia, who lives in front of her house

and she is an artist like her.
"We both love to dance, it's like a love story"

This 70-year-old biochemist by profession, a plastic artist and a fan of tango, who lives alone in Palermo, not as close to her daughter and grandchildren as she would like, describes how, if anything is clear from the first moment, it is that he is part of a risk group and that he should not go outside. She also doesn't feel safe to do it.
So one morning
called 147

to find out well about this volunteer program that you heard on television. "I am a very informed person, I read a lot, I do research on the internet, and so I learned more about the initiative. I talked about it with my daughter, who thought it was fantastic. A few days passed, first I asked the manager of my building to buy me some things But suddenly I said: no, I'm going to call to see what this is all about, "she enthuses.
What else
he was concerned about was security

, how to know who that person was and if they actually belonged to the City program. They explained how they did to validate the identity of the volunteers through the ReNaPer and the criminal record with the Ministry of Security. Then they proposed that he choose a password, which would be communicated to the volunteer and he should say it in the first telephone contact they had. A simple and simple word, like a key to open the link. They also suggested that he ask the volunteer to send him a photo of his DNI on WhatsApp, which Natalia did immediately.
Think of others
In her dance and Pilates classes,
always worked with older people.

He also thought about his mom, who is 78 years old and lives alone, that's why
Natalia did not hesitate for a moment when the notice of the volunteer program appeared on her computer.

He clicked right away,
filled out the form

, they contacted her to check data, she told them that she had just arrived from a risk country and lived with a person from a risk group, they found that everything was fine, they communicated a protocol and they gave her to choose between two options: provide containment over the phone or do the shopping and take the pet of an older person who lives near your home, within a radius of 5 or 6 blocks. "
I asked for the possibility of leaving, because I do not consider myself prepared to contain by telephone

. If necessary, I could do it, but it is not easy to contain, "he confesses.
Far from chance, too, she had planned to visit her family in Buenos Aires in early March.
He is 45 years old and has lived in Madrid for two decades.

He was still working normally in a gym when he traveled to Argentina. Although in Spain there was already talk of the coronavirus, the message was still that there was nothing to be alarmed about.
After doing the corresponding quarantine in his mother's house in Palermo, he saw that the cases began to multiply in Buenos Aires and he decided to stay with her. At the same time, the Spanish Consulate contacted her to repatriate her and gave her the possibility of taking the last flight that left. But he thought about giving his place to someone who needed him more, because ultimately here is his house too.
Susana and Natalia do not know each other personally and will not unless they meet once this is over.

The first time they spoke on the phone earlier in the week, after saying the password without which there can be no conversation, there was a long introduction where their lives were recounted.
The connection was immediate, they have many things in common and they stayed in touch.

After a few days, Natalia had to go out to shop for her mother and she wrote to Susana to see if she needed anything. She asked for some cleaning supplies that she had been unable to obtain and arranged the delivery with another important safety measure in mind. "I rang the doorbell, the manager came out with the silver and the bag in his hand. I made the purchase, put the ticket and returned it inside the bag and left it with the manager," says Natalia. The story continues like this: the manager went up to the floor where Susana lives and left the bag on the outside of the door, on the floor.
At the beginning of the compulsory isolation, many neighbors made themselves available to the elderly to go to the pharmacy, wash clothes, cook or buy something. Many slipped under the doors or stuck posters on the elevator mirrors offering their help and quickly received orders. These solidarity gestures gave impetus to the Buenos Aires Government to finish designing the program, which
It works by geolocation and already has 2024 registered seniors and 28,250 volunteers until April 2; of which 59% were signed up for logistical collaboration, 21% for telephone containment and 22% for both.

"The will to help that we are seeing these days is incredible. From the City we are excited and we thank those who are collaborating to take care of the health of all, especially the greatest. Once again we are showing that, if we continue to be united , we are going to get ahead ", assures Felipe Miguel, Chief of the Cabinet of Ministers.
Break down prejudice
Alejandra Vázquez, psychologist, gerontologist and program coordinator at
Furrows Civil Association

, states that in this context there is a prejudiced view of what aging means. The older person is thought to be the most emotionally vulnerable, and this is not always true.
If there is something positive in all this, it is that older people have lived through many more critical events, situations of mourning, adversity, even war, that they have had to face.

Not all older people are dependent, there are many who handle themselves very well. But at this time, they must respect isolation and it is also logical that they feel fear in the face of what they hear on the news, that the health system may collapse, that in other countries they are leaving them to die. That is why the figure of the volunteer also makes the elderly person distract, who is contained.
Having a reference that not only helps to make purchases, or some procedure, but with whom to establish a relationship of empathy and trust in these situations is very important, perhaps more in certain cases than diligence itself

.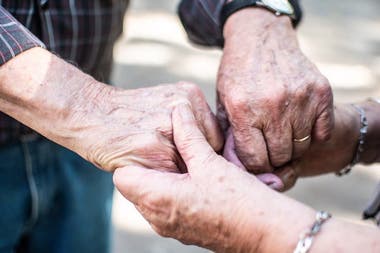 Susana was always very active

For this reason, she does not know how she will endure the confinement, not many days passed, but she thinks that there is a long time ahead, especially for the elderly, who will surely be one of the last groups to come out of isolation.
She misses her grandchildren very much, tango, art.

The workshop has it elsewhere and he did not make time to take some things. He also doesn't want any family member to approach them, I don't want to risk anyone. She is lazy with routine, somewhat scattered, busy with things around the house that tire her. He feels that he still cannot organize and is still solving the digitization of procedures and accounts, which take a long time.
After the first exchange, Susana and Natalia continued writing

, to tell you more about your days and also to schedule a future purchase at the pharmacy. "The truth is that it is very useful and I already recommended two people to sign up. In this program I saw a good possibility. Natalia is very attentive and she writes to me to see if I need anything. Surely this will be a permanent relationship until I feel safe to go out, "says Susana.
More solidarity projects
.


Publicado en el diario La Nación
(Visitado 2 veces, 1 visitas hoy)