It was August 8, 2017. Luna remembers it was Tuesday. He drew strength from not knowing where and told the pediatrician of his son, who was still a baby, the ordeal he was living. There, in that office of the Sardá Maternity, she found a safe space to talk and she did not say anything: she said that for years
he survived the blows of his partner, who was afraid, that his days were numbered.
"I could not take it anymore, my ex put a knife in my neck and said: 'If I kill you today, it's going to be tomorrow'", remember Luna.
The social worker and the maternity psychologist guided her on how to make the report and where to go. He took a bus, got off at Lavalle Street and went to the Office of Domestic Violence (OVD). "On TV, I had seen the advertisements of line 144. Seeing that, I decided to leave the circle of violence," says the young woman, who is now 22 years old.

"Leave the circle of violence." Luna repeats the phrase like a mantra. For her, who had sucked violence since she was a baby, to understand that there was a way out was not easy. She heard it for the first time from the mouth of one of the psychologists who received her in the shelter where they arrive, like her, women who leave their homes escaping from the beatings and abuses of their aggressors, who in the vast majority of cases are couples or ex.
Luna builds the puzzle of her story, crossed by violations of all kinds, at Casa Margarita Barrientos, in Los Piletones, where she feels safe for the first time: "I imagined a different life, but I had no support or contention. I have never met people like there are in this place: they ask you how you are, what holds you, what is always there ".
The
Margarita Barrientos House It was born three years ago and is one of the two half-way roads in the city of Buenos Aires. It has 25 places, five rooms that women share with their sons and daughters and is an associate manager between the Margarita Barrientos Foundation and the Buenos Aires government. Unlike shelters -which offer protection to those who are going through a high-risk situation: they have strict security rules, a reserved address and they are closed doors-, halfway houses are more permeable.
Women can enter and leave, take their children to school, go to school or work.
Agustina Señorans, undersecretary of Social Promotion of the Ministry of Human Development and Habitat of Buenos Aires, explains: "The women who arrive at this type of device are those who do not have any kind of containment network, internal or financial resources. process goes from being recognized as victims and saying 'I want something else', until they are strengthened and can get a job.The value of these spaces is in the artisanal in terms of being able to understand the needs of each one. "
Desperadas Scared Beaten and abused. With their sons and daughters in their arms and only with what they put on. This is how women come to shelters, homes and halfway houses. Most of them have endured years of abuse, like Luna, who had also grown up in a family environment marked by violence.
In the rush to leave their homes, many do not even have their DNI. "The first work that is done with women is the internal strengthening: the care of one and the children, that returning to the violent is not an option," Señorans emphasizes.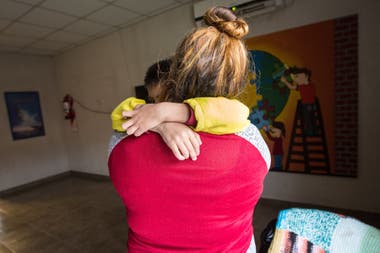 Casa Margarita Barrientos has an interdisciplinary team made up of lawyers, psychologists, social workers and operators, who accompany the daily life of women. During their stay, they seek to strengthen them so they can start a life free of violence. The training and labor insertion to achieve economic independence that allows them an autonomous exit, is one of the central axes. It is not an easy road.
"From the therapeutic spaces we seek that they can build a different story from the one they bring and that is very complicated,
because violence is deeply rooted in them, it even comes from generations and requires a very hard work on the part of women ", describes Eliana Bosoer, the space psychologist.
A community project

"The project of the house is raised by Margarita because there were many situations of violence that the women were going to tell her foundation, she had sheltered several in her own house," says Silvia Herrera, coordinator of the place. "Although it was born as a space designed to respond to the women of the neighborhood, it was transformed into something else, and now houses those who come from all over the City." In Los Piletones those who had to leave their homes found a strong community network and many later they chose to stay, "he adds.
Herrera says that the team accompanies women so they can have a vacancy in schools and early childhood centers, to attend job training workshops: all within the same neighborhood and a few blocks. In addition, a lawyer advises them on the legal, they are managed economic subsidies that are a support and, in many cases, they accompany them so they can get their documents or those of their sons and daughters.
Currently, there are seven women living in the house who come from the shelter Mariquita Sánchez. "There is no stipulated time of permanence, there is a woman who is two years ago, others were months
. The idea is that they can work their stories and everything that happened to be victims of violence in the therapeutic spaces, in order to reach an autonomous exit for them and their children", says Herrera.
When Luna arrived at the house she had a depression that did not let her get out of bed. "I only slept and I stayed in the room of the anguish I had: I got up at 12 noon," he recalls. Little by little, thanks to those people who knocked on the door to ask her how she was, if she wanted to eat, talk, or be with someone, that with respect for her times but insistently let her know that she was not alone, she started to leave from the well.
When asked if she was willing to give an interview, Luna said she was going to fix herself. He appeared with his long hair pulled back in a huge bun, breeches and a zipper. He agreed to take pictures, but with his back turned. In addition, he asked for another name. From his childhood, he tells that he was born in Santa Ana, Misiones, and squeezes in a phrase, as short as it is devastating, years of abuse and violence:
"My mom started to prostitute me at 5 and that's how I was until I was 8. My grandmother told my dad, who lived here, in Buenos Aires, and brought me to Bajo Flores".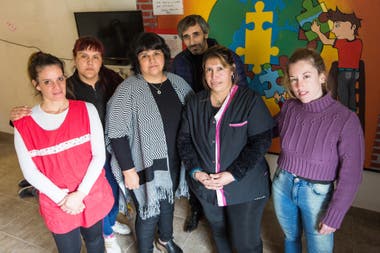 From 9 to 18 he lived in a home for boys and girls deprived of parental care and a host family: "Being with that family I was abused, I told a classmate of my course and then the school went to get me removed. from there".
He returned to live with his father and his wife until, in 2016, he became a girlfriend. He met him in a sewing workshop. "He was running the machine and I was an assistant, I was pregnant at four months and at three months of pregnancy, the abuse began," he says. First, they were psychological. Soon after, the blows came.
Since she was in the house, Luna went back to school. He is in the first year of secondary school. He is walking, three times a week. She says she wants to make her dream come true: "Be an actress and singer, but not to be a millionaire: I want to help people in need." He likes to drink mate and talk to the technical team. "She is an active participant in all therapeutic spaces and activities," says Eliana, her psychologist.
Luna arrived at the house on January 22, 2019 and the date of her discharge is still uncertain. What he does know is that he wants to stay in the neighborhood. In that sense, Señorans says: "All the women who graduate hold this space as a reference: they always come back, from celebrating birthdays to sharing a news item or consulting the psychologist or lawyer."
"
In this place I changed. I feel contained, encouraged to continue my studies. I love people, I feel contained here, I had not happened elsewhere, "concludes Luna holding his eyes and, for the first time in the interview, smiles.
How to collaborate

Facebook: Margarita Barrientos Foundation
Where to ask for help

Line 144: It is the free helpline for women in situations of violence. It serves 24 hours, free of charge and throughout the country
Office of Domestic Violence: It attends every day, 24 hours a day. It remains in Lavalle 1250 PB, CABA. You can call (011) 4123-4510 (to 4514)