The figures of the high school dropout They were already an urgent problem before the pandemic broke out, but the Covid-19 threatens to make it even bigger. So, what to do? That is the great question that teachers throughout the country ask themselves daily. The health emergency showed the need to be more empathetic than ever with the students, to rethink each and every one of the aspects that make the "teaching-learning" pair, to actively engage with the community in which they are inserted.
This is how Mariela Guadagnoli lives it, who is a teacher in one primary and three secondary schools in the city of Gálvez, in Santa Fe, and promoter with her students of the Professional School No. 456 Hipólito Yrigoyen of the Ecological Paving Project. It is an innovative proposal that significantly improved the school climate, generated links that support boys and girls, motivating them and reducing the risk of dropping out. In order for the project not to be held back by the impossibility of going to the workshop during quarantine, they had to deploy different strategies. She sums up that challenge in one sentence: "Magnetic schools must be generated that attract boys, so that they want to be and be part of the institution, that they not only go to pass a subject, but because they enjoy and find meaning in what they do"
Mariela, who is one of the 50 teachers from all over the world (in addition to her, there is another one from Argentina) who was selected by the Varkey Foundation to participate in the Global Teacher Prize 2020 – known as the "Nobel of education" -, she says about the health emergency: "It involved relearning to educate"
Magnetic schools must be generated that attract boys, so that they want to be and be part of the institution
Mariela Guadagnoli
This teacher from Santa Fecina, who is 49 years old and started teaching almost 23 years ago, divides her working hours between her work as an architect and teacher of technology, drawing and technical teaching in construction. The successful "formula" that it has been implementing for more than two decades is the project or challenge based learning, seeking to generate a community impact. "The need to implement this type of learning came to me when I saw that the children were not interested in what they were learning, that I could not grasp them and I thought: 'I have to do something to make them want!'" Recalls Mariela. About her impact, she says: "This learning is what really makes kids come out of school differently, because it prepares them for life. I like to say that it gives them a vital project"
Ensures that the technological gap became particularly noticeable in quarantine. "The reality of Gálvez is very uneven. We have schools with boys who come from vulnerable sectors who are very disconnected and also private institutions where they have all the necessary tools. In addition, many students work to collaborate at home," he says. And he assures: "This of doing my classroom practices working with challenges made me take the pandemic as one more, without despair, planning based on the new, facing difficulties and incorporating children in this new way of thinking about school and its way of learning. "
He says that teachers and students continue with very fluid communication through WhatsApp and the Internet, "because project-based learning makes the link different." "We stand from a place of trust and the boys have no problem giving their opinion and sharing what is happening to them," says Mariela. The articulated work between teachers from different areas and students from different courses is key to her. She exemplifies this by telling how in the last weeks the concern about going back to the classroom arose among the boys. "We set up a WhatsApp group with 20 boys and three teachers, and we began to design the protocol obviously based on that of the Nation and the province, to work on their fears and their needs, and we did a virtual class with a school in Uruguay to tell us about her experience ", describes Mariela.
The Ecological Cobblestones project emerged in 2018 from a specific challenge: provide a solution to the school paths that were flooded and where boys and girls travel with their bicycles. But the cobblestones were just an excuse. What this teacher was really looking for was to engage her students and improve the school climate, concerned about several cases of young people who, with different problems, were going through moments of great anguish and depression. This week they met with officials from the Gálvez municipality to talk about the possibility that the project could become an undertaking that not only implies a job opportunity for some students, but also for other young people in the community.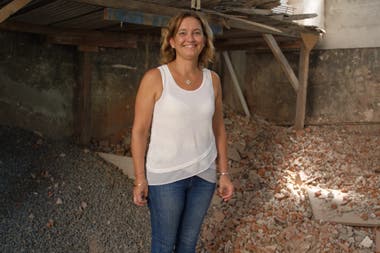 For Mariela, quarantine was also a stage for training. She learned to use applications to make her explanatory videos more fun and implement good practices that boys and girls can do at home, attending to their peculiarities. She has the teaching vocation in her blood. Her great-grandfather Hugo Arozena was Gálvez's first teacher. Her grandmother and mother also taught. For this reason, she considers that her gaze of thinking about the students in front of her was always her goal. "I cannot pretend to give the same thing in all the schools where I work, I have to know the children, know what problems they have and from there build learning, not only so that they can participate but also commit to what we are going to do, with their education and enjoy what they do, "says Mariela.
We have to break with that very rigid method of educating, to work in a more dynamic way. That's where we start to find out what interests the boys and how we can catch them.
Mariela Guadagnoli
Project work not only makes young people want to go to school (and even skip breaks or want to continue on vacation), but also teachers. "Place the note goes to the last plane because you see the really committed ones – it maintains -. It generates prominence, because they begin to represent the school, but also builds links from another place, because everyone learns from everyone's mistakes and knows that it is a step to improve, nobody makes fun of anyone. Is to educate them in resilience and solidarityIn this sense, he points out that in the workshop, they should not only teach from the theoretical and practical, but also "the emotional part and the links." "In these projects, teamwork is essential," says Mariela.
When the cobblestone project was born, Mariela and her students began the "arduous journey of testing and venturing with materials." They incorporated some of discard and thanks to a contribution from Conicet, a chemical that makes cobblestones air decontaminants. "That is, in the presence of the sun and by photocatalysis, they destroy the pollutants," explains the speaker. Today, they are looking to patent them and, since production is manual, the boys and girls planned for this year to generate machinery that allows them to do it in series. "We started to investigate and we saw that all those that are normally used to make paving stones are not useful for the materials that our own carry, so we would have to make a new machine," says Mariela. Since this work requires a presence in the workshop, during quarantine they are dedicating themselves to studying theory and research.
Among other projects that emerged during the pandemic, Mariela and her colleagues at the Hipólito Yrigoyen school, together with former students of legal age, printed on the 3D machines that the institution has, headbands to assemble protective masks that they delivered in the health sector of Galvez. It was a community initiative that involved other schools and volunteer firefighters. "The collaborative work and educating the kids on that is great. The alumni who are still linked to the school and it is nice to see how they come back and feel part of it," he says.
His dream is for the cobblestone project to become a work cooperative, since he says that many of his students do not have the possibility of continuing to study a university or tertiary career and see in this project a job opportunity. "I think that is going to close the circle there. Even now they are going to train neighbors in a community program, where they will have a teaching role. I dream that each student of mine knows what he wants to be, help him build his life project and that he can face and solve everything that comes his way. Educate him for life. So I say that the cobblestone is an excuse"concludes Mariela.
More information
La Nación Foundation Award for Education: The application is open until October 2, 2020 and only initiatives that have been developed in the context of the Covid-19 pandemic may be presented. Among the participating schools, three winners will be selected who will receive 300,000 pesos each and, also, three special mentions will be awarded that will receive 100,000 pesos each to invest in the training of the teachers involved and the equipment of the school to facilitate access to Communication technologies. Likewise, they will be given dissemination of their initiatives and training on various topics related to the teaching-learning process. To apply, schools must complete all the required information on the online application form that is available on the website. More information: write to [email protected] or call the cell phone: 11-4915-9533. Bases and conditions at: www.fundacionlanacion.org.ar/premio
Ecological Paving Project: You can learn more about the Ecological Paving project on Instagram and Facebook. To contact Mariela, write her to: [email protected]
.


Publicado en el diario La Nación
(Visitado 6 veces, 1 visitas hoy)