Ten nine… Everyone gets up from their chairs and grabs a glass of champagne.
Eight seven… Laura (42) moves away from the dining room and stealthily goes to Romeo's room (6).
Six five… He finds him asleep on his bed. "The medication worked," he thinks.
Four three… He lies down next to him and hugs him tightly: "Don't wake up, please."
Two, one … The clock shows 12 o'clock at night. Outside, the rest of the López family bumps their glasses, trying to make as little noise as possible. And then, in less than a minute, the nightmare starts another year: the explosion of fireworks raises Meme, who, in the midst of despair, tries to bang his head against the mirror in the room. Laura slows him down as she can and stays hugged to him. "I just wish I could enjoy Christmas and be all together, as a family," he asks, looking at the ceiling and wishing the noise stops soon.
This Christmas maybe he can fulfill this desire, thanks to a special helmet that the little one will wear and that will help him
isolate
the sounds.
Romeo "Meme" López was diagnosed with Autism Spectrum Disorder (ASD) at two and a half years. Although his pediatrician said he had a "normal" neurodevelopment, his mother, Laura Mieres, preferred to consult with other specialists:
"I have four children and he is the third one. There were things that, in comparison, didn't close me. For example, I didn't know how to suck my chest and I had a lot of speech difficulties," he recalls.. Once all the corresponding controls were done, they discovered that he also had microcephaly: "it is important to conduct studies to rule out a syndrome when you have several pathologies," Laura recommends.
Romeo "Meme" López was diagnosed with ASD at two and a half years. Loud and unexpected noises can cause you to self-injure. Mainly, he bites and hits his head.
Meme is a music fan, loves to dance and sing songs from the 80s and Los Cafres. His mother describes him as a super affectionate child, who "never had behavior problems with other people." However, it is common for self-injury, especially when he hears unexpected noises such as "the motor of a motorcycle, that of a blender or that of sound pyrotechnics, which are the ones that suffer the most."
Before he was diagnosed with ASD, there was a very punctual episode that made his dislike for these sounds clear. "It was December and we had left Zahira (18) and Meme alone. My neighbor, who always bought fireworks, decided to try them during the afternoon.
After 15 minutes, my daughter calls me in shock and tells me that her brother had turned his head against the plug and was all bloody. The din triggered a crisis in him and we had to take him to the emergency hospital ", tells the mother.
Laura believes that these reactions from her son are due to "want that noise out of his head." "He always looks for sharp elements to hit himself because he needs to take away the fear inside to be able to breathe," he describes. Although there are some sounds that he got used to and that, thanks to various therapeutic treatments, no longer make him suffer from a crisis, with pyrotechnics it is different because they cannot anticipate it:
"For him it's like getting into a war that only ends when it hits."
You need to take your fear inside to breathe easy.
Laura, Meme's mom
This year, Brenda Aguirre, one of the therapists who worked at the Piuque Center where Meme attends every afternoon, returned to the López family the hope of having a quiet holiday. As part of a project, he put together an insulating helmet of external sounds that also has built-in headphones and Mp3 with his favorite songs. "From now on, he knows he can ask me when he feels disturbed and at least that way, we avoid getting hurt," Laura says. As if that were not enough, Brenda added a sticker of Batman, Meme's favorite superhero:
"Let's not forget that he is a child, with the same right as others to open presents at 12 at night, instead of crying and hitting his head," asks the special education student.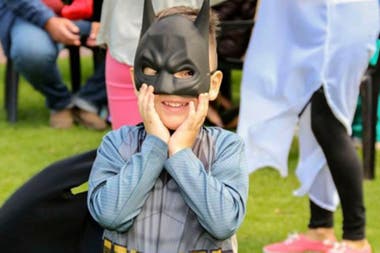 This holiday season, Meme will use an insulating helmet for external sounds, which prevents her from harming herself.
Anyway, the López family is sorry to have to reach the instance of spending the parties held – this year they will travel to the countryside for Christmas – and that Meme should wear a helmet to avoid injury, when in truth, the solution is much more simple:
"Say no to sound pyrotechnics". As members of the
Association TGD Parents TEA Tigre, Laura and her husband Guillermo try every year to raise awareness in their neighbors and teach them the effects of fireworks on children with autism. "We go to places and show them videos and give information on the subject. In general, we notice that most people use pyrotechnics due to ignorance, not because of lack of empathy," he says.
Where they find more obstacles is in the Municipality:
"We don't have the municipal ordinance against pyrotechnics, all areas ask for it, but projects always bounce back." In fact, every year in the municipality they celebrate Virgin's Day (December 8) with a great event, where they throw fireworks. "Everything helps make December a very stressful month for Meme," says Laura.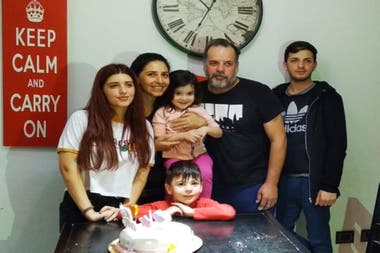 December ends up being a very stressful month for Meme.
Laura
López's claim is the same as that of many other families who have children with ASD, who experience first-hand the suffering of those who are more sensitive to loud noises and therefore, raise their voice against sound pyrotechnics under the motto from
"More lights and less noise". What for others can be as simple and fun as waiting for Santa Claus and watching the fireworks, for them it is a nightmare:
"Hopefully one day we can spend the holidays like any other, we can meet again with more people and not be worrying about Meme, who is having a bad time at that time," Laura concludes.
(tagsToTranslate) A helmet will help a child with ASD at Christmas – LA NACION


Publicado en el diario La Nación